Norwegian Wood Drawings, 2012
The Norwegian Wood drawings will be exhibited at the Patrick Mikhail Gallery in Ottawa in April 2013.
The vinyl record album is a remarkably unevolved technology. Edison's first sound recording in 1877 was created by drawing a needle across the surface of a rotating wax cylinder. By focusing the sound waves upon the needle, the shape of the sound was literally scratched into the surface of the cylinder. Although recording techniques improved over the next century, the grooves of a record album remain, simply, a physical echo of the original performance. As a result, the minute variations of the vinyl surface carry, even if in a very small percentage, rare essences of the past.
I intend to divine the shape of John Lennon's loneliness from the grooves of my old Beatles albums. A brilliant but troubled song songwriter, rejection and self-loathing underlie many of Lennon's most enduring songs: Girl, I'm a Loser, and Norwegian Wood. A turntable has been configured so that the vibrations of the needle are transferred onto a drawing surface and his loneliness given form.
Speculative? Absolutely. But even the consideration that the lines on a paper contain something as indefinable as loneliness can be a powerful if destabilizing event for the viewer.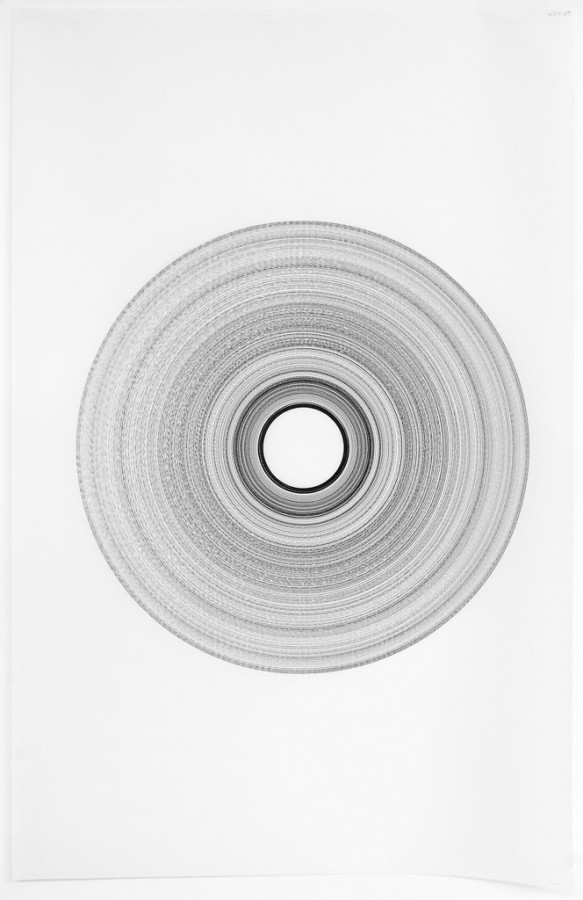 I Want You, Norwegian Wood series, 2012, ink on vellum, 34 x 22″
Come Together, Norwegian Wood series, 2012, ink on vellum, 34 x 22″
Back